Finders International, one of the leading probate genealogy firms that featured in the BBC television series, Heir Hunters, says the number of cases of Irish people who have died intestate in England and Wales with no known next of kin has risen.
Finders International's senior researcher and office manager in the Dublin office, Maeve Mullin, told The Irish Times that "There are an incredible number of estates of deceased Irish people waiting to be claimed from the UK government". She added that the Dublin office have worked on 69 cases where Irish people have died intestate in the UK so far in 2019, in comparison to the total 57 cases in 2018, 46 in 2017 and only 39 cases in 2016.
Bona Vacantia
The Bona Vacantia list is a government register of unclaimed estates published by the UK treasury.  Estates from before 1997 must be claimed within 30 years of the person's death. Should the unclaimed estate be after 1997 then there is a 12 year rule in place, meaning beneficiaries only have 12 years to make a claim from the date the estate was administered.
Funding cuts to the Bona Vacantia division around five years ago means that estates are often put onto the unclaimed estates list without the government making a search for a will first.  Maeve believes this has contributed to the rise of listings on the Bona Vacantia where there are currently more than 500 cases in which the deceased person is of Irish origin. Finders International runs the Unclaimedestates.ie website.  Here, people can search the Bona Vacantia list for unclaimed estates left by Irish people
Success story
Maeve told The Irish Times how she worked on one case that saw Denise Dalton, from Dublin, and her four brothers receive an unexpected inheritance from their 81-year old paternal uncle, Patrick Dalton, who passed away in London. Denise was sceptical at first when the letter from Finders International came through her door as Denise had only met Patrick once before when she was around eight years old: "I really didn't know whether to believe it or not…We really didn't know anything about our uncle."
However, after speaking with Maeve and the team in Dublin, Denise and her brothers inherited a share of €100,000.  Without Finders International's research, the estate of Patrick Dalton would have passed to the UK crown, which is why many local authorities, like that of Patrick Dalton, pass over the case to Finders to trace missing beneficiaries.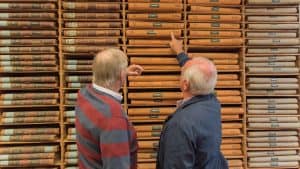 Solicitors will also ask probate genealogists, like Finders, to verify family trees to confirm all beneficiaries have been located or to help with a partial intestacy. As Lorna Fleming, private client manager in the Dublin office explained, "Maybe there's a will, but the named beneficiaries have predeceased the person, or they can't find them."
"It's not always about the money."
Beneficiaries that learn of an unexpected inheritance often want to learn about the deceased, their life and how they fit into their family tree. It is common for beneficiaries to receive money from a relative they had never heard of before. Lorna says, "You would think nowadays that it is difficult to lose touch, but people have their reasons.
"It's not always about the money. It's actually about finding out about the relatives as well. That is a big part of it with the people we speak to."
Finders International Ireland are probate genealogists who identify and locate beneficiaries to estates, properties and assets worldwide for the public and private sectors. For more information on Finders Ireland, please visit their website.  Alternatively, you can call them on +353 (0)1 5676 940 or email them at [email protected]